Kendrick

High School




Class Of 1970

---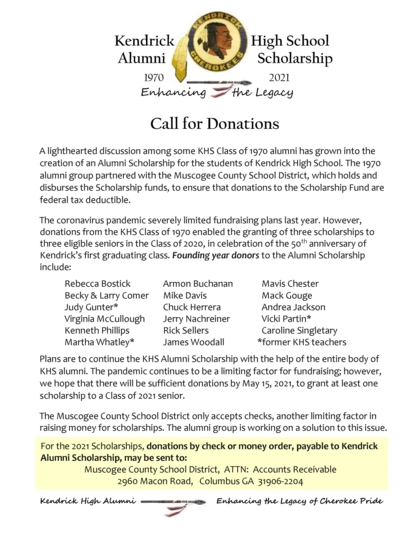 ---
First Kendrick Alumni Scholarships Awarded
Kendrick High School's Alumni Scholarship Committee announces the first recipients of the Kendrick Alumni Scholarship. Members of the KHS Class of 2020 who were selected to receive Alumni Scholarships and the schools which they will attend are:
Ms. Quinnette Grayson - Columbus State University
Ms. Samerica Thornton - Columbus Technical College
Ms. Krystal Turner - Columbus Technical College
These are the inaugural scholarships granted by the Kendrick High Alumni Scholarship program. This program was established by the School's first graduating class, the Class of 1970, in celebration of the 50th anniversary of their graduation on June 5, 1970. The Committee plans to continue the Kendrick Alumni Scholarship endeavor, extending involvement to all years' alumni.
Congratulations to our 2020 graduates!
---
WEBSITE DONATIONS
SUCCESS!! We have received enough from several of our generous classmates to secure the website for another 10 Years to February 06, 2027!! If any "extra" donations are received they will be sent to the committee to either be sent back or used for our 50th reunion. Thanks again to all those classmates that helped us with this.

Welcome to the Kendrick High Class Of 1970 web site!

If you are a KHS Class of 1970 Alumni, Please go to "Classmates Profiles" and Enter your information. If you are not on the class list, email us at the "contact us" link. If you want to keep your information private or need help entering it, please contact the website administrator.
Keep checking the site for upcoming events / get-togethers. Be sure to visit the chat room and forums often to keep in touch and let us know how you are doing.
Also...If you have any information (no matter how obscure) that might help us locate missing classmates, please contact the site administrator.